Alright ladies, there is no one more than me that loves dressing up their little girl and I mean with all these cute accessories in boutique stores and on etsy lets get real, we could never have enough headbands right??
I have the greatest privilege to share with you all a friend of mine and her new etsy shop called
Cute Head
and do a little giveaway!
Ladies are you ready for some cuteness??
Hi! My name is Jessica and I am so excited to be featured on The Foltz Family blog! I am 26 years old and have a husband named Brian who I have been married to for just over 2 years now. (11-11-11 was our wedding date!) Besides being the creator of cute.head Headbands, I lead worship at my church and work for NGEN radio in Houston, TX as a "Digital Media Specialist". (Which is basically a fancy term for doing anything and everything digital…graphics, website, app, social media, photos, videos…you name it.)
Anyone who knows me knows that I love to be creative and to make things. So, naturally, when it came time for one of my closest friends to have a baby, I pondered what I could make for her that would be unique and fun…After a while, I finally decided that I wanted to make some custom headbands. After having a little too much fun making them, my friends and family encouraged me to make more and try to sell them.
Unfortunately though, another thing that I am good at is getting really excited, and then losing interest quickly. As I thought and thought about what I could do that would help inspire me to follow through with the project, that's when cute.head was born! You see, I had recently had the opportunity to spend some time with the precious children at the Ronald McDonald House in Houston. So, as I continued to talk with my husband, the idea of a 2-for-1 project continued to come up and I thought, "What better accessory for a little one who has lost their hair than a headband?? If it could help them feel cute, confident & loved, then it would be totally worth it!" As soon as that thought popped in my head, I was sold. When I started sharing the idea with my family and friends, they all loved it just as much!
When I was trying to come up with a name, cute.head was the first one that popped in my head! It was as if it was just meant to be.
All in all, I just hope that every little girl who wears one of my headbands, whether it was purchased or donated, will feel loved and beautiful and that the world would be full of little cute.heads! Ok, maybe not the world…I would need a factory!!
How cool is Jess's idea?? I love the fact that for every headband she sells she gives one away to make another girl feel special!
One lucky reader will win a headband of their choice and all readers can get $3 off any two headbands using the code "Christmas"
Start picking your favorites...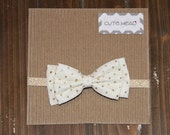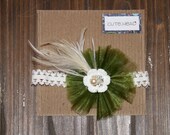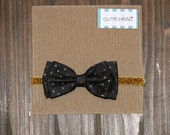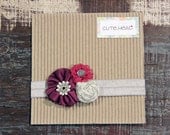 Check out more cute headbands
here
.